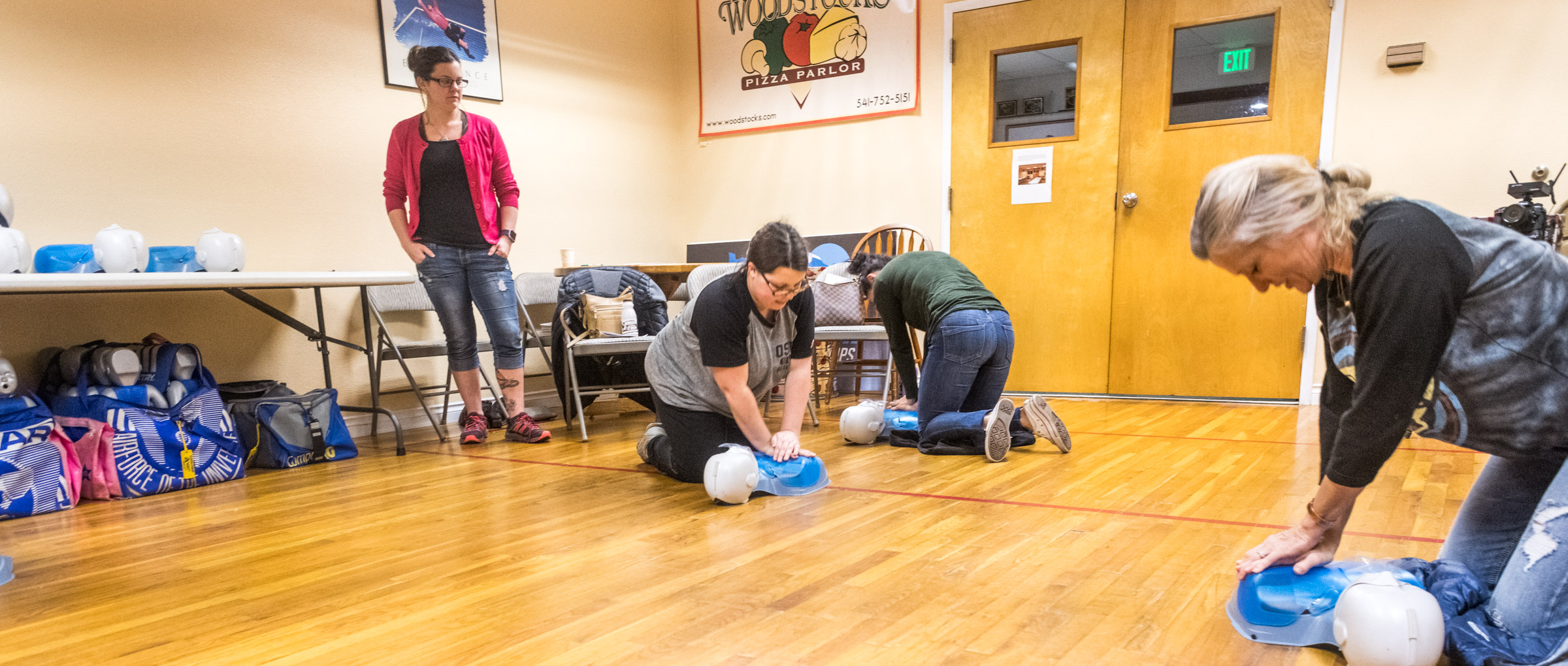 Success Stories
Aerobics instructor saves young boy!
Traci, an aerobics instructor in Salem, was about to have her first baby and decided it was time to take a CPR class. Not only did she want it for her own family, but it was a job requirement as well. One Saturday morning she was talking with a neighbor and saw a three-year-old neighbor boy get stuck under an electric garage door.
Traci and the neighbor she was talking to went to aid the youngster. They could not get him out and could not lift the door. They were finally able to get the attention of the boy's sister who was inside the house. Once inside they were able to get the door open and realized the boy was not breathing.
While the sister called 911 Traci began mouth-to-mouth resuscitation, a technique she had learned in the CPR class. After several breaths the boy began to breath on his own. That evening Traci gave birth to her own child. What a day! She saved one child and brought one of her own into the world! Good job Traci!
Just like I had done a thousand times!
Jesse, a waiter at an Albany restaurant, had taken a CPR class at his other job at a Salem athletic club. Little did he know the Heimlich Maneuver he had learned in class would come in handy so quickly after he had taken the class.
I remember Jesse telling me he didn't think he would be able to do the life-saving techniques very well in the real world. I told him to have confidence in his skills and to feel like he had done it a thousand times. He left saying, " I'll try, but I hope it is you and not me helping a victim."
On a Friday evening working as a waiter he noticed a customer choking. Once he identified the problem he began the rescue. He positioned himself behind the victim and put his arms around her mid-section so he could start the Heimlich Maneuver. The first thrust did not work so he gave another one that was harder and the object came out. The customer began to breathe on her own and told Jesse, "Wow, you acted like you have done this a thousand times!" A little confidence goes a long way. Good job Jesse, I knew you could it!
Steve saves elderly woman when she was choking
Steve, a licensed massage technician in Corvallis, needed to update his CPR card to renew his LMT license. During the CPR class Steve learned just how easy and effective the Heimlich Maneuver can be. A few months after taking the class Steve was needed to put his training to work.
Steve and his wife were dining out when Steve's wife noticed an elderly lady choking at another table. She alerted Steve to the problem and he immediately went to her aid. Once Steve identified himself to the lady's husband he began the rescue. Once Steve identified that the lady was not breathing, he positioned himself behind her and began thrusts. During class he had learned to give the thrust as hard as he could to expel the object, but Steve was a little hesitant due to her age, 87. After trying three thrusts without success and beginning to feel the victim begin to slump Steve "gave it everything I had." That thrust relieved the object and the victim began to breathe own her own.
That evening Mary, the victim, was having dinner with her husband of 61 years and she thought she had taken her last breath — that is until Steve gave her a chance to breath again. Good job Steve!